Golden Altar Ministries World Outreach Church is expanding the Kingdom of God in the city of San Jose and cities abroad. Apostle Calvin Cook and his wife, Delores, lead the church through the direction of the Spirit of God and through the representatives of the Five-Fold ministry that have been established within the Kingdom of God.
Golden Altar Ministries World Outreach Church invites any and all to join us in a Spirit of Worship and Sacrifice as we give Praises and Honor to our God.
Apostle Cal & Elder Dee Cook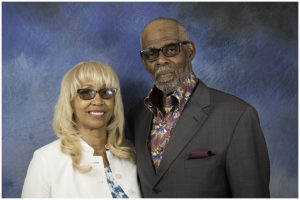 Our Vision
Is to build a perfect man according to Ephesians 4:13: "Till we all come in the unity of the faith, and of the knowledge of the Son of God, unto a perfect man, unto the measure of the stature of the fullness of Christ"
Our Mission
Is to help bring every member into true Dominion Living and prosperity and spread the Gospel of the Kingdom to the four corners of the world.
Our Foundation
Is biblical discipleship with a focus that will reveal every member as a King and Priest of the Kingdom of God. The members will learn how to walk in their true purpose.
Building for the Future
We believe in the family generations: Psalm 33:11 "The counsel of the Lord standeth forever, the thoughts of his heart to all generations". Psalm 89:4 "Thy seed will I establish forever, and build up thy throne to all generations. Selah." Isaiah 59:21 "As for me, this is my covenant with them, saith the Lord; My spirit that is upon thee, and my words which I have put in thy mouth, shall not depart out of thy mouth, nor out of the mouth of thy seed, nor out of the mouth of thy seed's seed, saith the Lord, from henceforth and forever."
"Working for the Kingdom and living for His righteousness" (
Matthew 6:33)
The "Priest Photo" Comes to us courtesy of Terry Harman at
terryharman@yahoo.com
and Youtube at "The Tabernacle Man"